2019 Shanghai Soong Ching Ling Foundation Annual Meeting
On April 23, 2019, more than 140 members of the fifth SSCLF's council, overseas directors, honorary directors, special fund managers and guests gathered at the Blossom Hall of Hengshan Hotel to hold the 2019 annual SSCLF's council member meeting
The annual meeting was presided over by SSCLF's vice chairman Xu Dexin. Representatives of the Soong Ching Ling Foundations in Japan, South Africa, Italy, Philippines, Singapore, Switzerland, Sweden and France, and directors of SSCLF from the United States and Hong Kong also attended the annual public welfare event.
Participants and guests first watched the Shanghai Soong Ching Ling Foundation promotional film "The Power of Growth".
During the five years from 2014 to 2018, under the leadership of the fifth council, SSCLF has always adhered to Soong Ching Ling's public welfare concept and spirit, bravely innovated and boldly explored, and made great progress, and the social credibility and influence have been constantly improved.
In the past five years, SSCLF's total revenue was 553 million yuan, of which 243 million yuan was donated. Total expenditure was 284 million yuan, of which 261 million yuan was project funding. Project funding for 2018 reached a record high of 80.96 million yuan. By the end of 2018, there were 46 special funds and 354 public welfare projects implemented, benefiting more than 5 million people. It has basically realized the expected goal set in the development plan of the fifth council to build the foundation into a compound (operation + funding) foundation with medium scale, standard governance, professional management and domestic and international influence within five years.
SSCLF's executive vice chairman Zou Wei gave a report titled "Under the banner of Soong Ching Ling, forging ahead in the new era, vigorous innovation and achievements -- The Work Report of the SSCLF's fifth council." The report is divided into two parts: "Exploration and Effectiveness" and "Experience". The report systematically summarizes that the fifth council has adapted to the new needs of social development and sought actions in social organizations, effectively upgraded public welfare projects and orderly transformed operation modes, and optimized internal governance structure and improved organizational professional competence.
SSCLF's senior leader Xie Lijuan made an important speech. She was heartily gratified that Soong Ching Ling's public welfare undertakings have been followed by the young people. She said that "We are grateful and we are connected to the public welfare undertakings because the progress of society requires everyone's love and dedication."
In his speech, Zhang Xiaomin, vice chairman and secretary general of the China Welfare Institute, secretary of the Party Group, pointed out that "We are engaged in a great cause named after Soong Ching Ling. We should not forget our first intention and remember our mission, constantly improve our influence, so that Soong Ching Ling's love cause continue to pass on."
Cheng gang, Guan Dachang, Lu Hanlong, Cai Yihui, Jin Hui, Zhang Anpu, Zou Shiming, Lu Zhaojunhong, Shen Xiaoping, Kong Xiangdong and other directors and guests present at the annual meeting made positive suggestions and insightful comments on the work report of the council and the development of the foundation in the new era.
Before the meeting, two famous painters in Shanghai, Wu Guoqiang and Liang Gang, donated three paintings to the Shanghai Soong Ching Ling Foundation. SSCLF's senior leader, Mao Jingquan presented them with the certificate of donation.
2019 SSCLF Annual Meeting held at the Blossom Hall of Hengshan Hotel
SSCLF's vice chairman Ms. Xu Dexin presided over the annual meeting
SSCLF's senior leader Ms. Xie Lijuan made an important speech
Vice chairman, secretary general of the China Welfare Institute and secretary of the party group Mr. Zhang Xiaomin gave a speech
SSCLF's executive vice chairman Ms. Zou Wei presented SSCLF's 5-year work report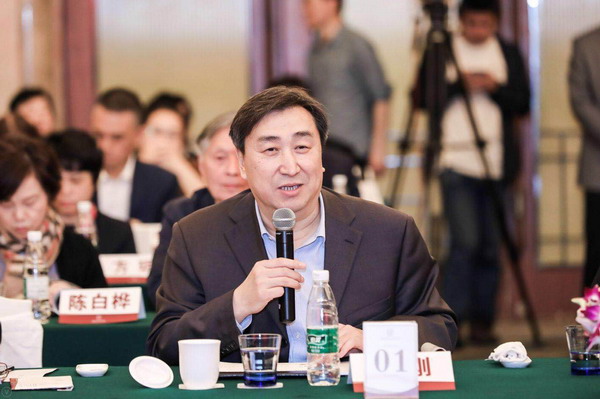 Speech given by Mr. Cheng Gang at the annual meeting
Speech given by Mr. Guan Dachang at the annual meeting
Speech given by Mr. Lu Hanlong at the annual meeting
Ms. Chai Yihui speaks at the annual meeting
Ms. Jin Hui speaks at the annual meeting
Mr. Zhang Anpu speaks at the annual meeting
Mr. Zou Shiming speaks at the annual meeting
Dr. Lu Zhaojunhong speaks at the annual meeting
Mr. Shen Xiaoping speaks at the annual meeting
Mr. Kong Xiangdong speaks at the annual meeting
Mao Jingquan, a senior leader of SSCLF, presented certificates to Wu Guoqiang and Liang Gang, two painters who donated their paintings