Shanghai holds large-scale public welfare activities for environmental protection
The "Happy City·Clean Home" large-scale environmental protection public welfare event, sponsored by Shanghai Riverside Forest Park and Shanghai Soong Ching Ling Foundation and undertaken by the Charity and Gratitude Mother's Home Public Welfare Promotion Center, was held in Riverside Forest Park on April 20. More than 600 employees and families' members from dozens of companies in the city took part in this public welfare event, which aims to practice the principle of "Start from me, not to drop garbage on the ground". The event was mainly carried out in the form of environmental protection public benefit directional competition and charity bazaar. Participants received degradable environmentally-friendly garbage bags free of charge at the entrance of the park on the same day. The garbage in the park left the tourists and the white garbage left by the tidal of the river were put into the garbage bags, which sent to the garbage collection points set up in the park according to the garbage classification requirements. Many citizens came with young children, or shuttle the woods to pick up garbage, or actively participate in environmental protection knowledge answers, and enjoy the fun of participating in public welfare practice while appreciating the green ecology. More than 150 volunteers from various public welfare organizations in the city provided warm-up performance, charity bazaar, environmental protection games and other services on the spot. The public welfare event got support from local government departments and many caring enterprises.
A service desk
Participate in the public welfare activity with his young child
A wonderful performance at the opening ceremony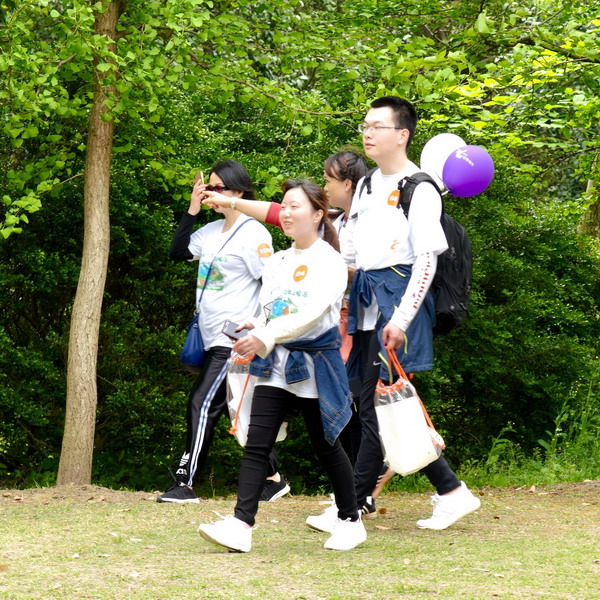 Appreciating Green Ecology
Young sisters' volunteers
The ice cream at the bazaar is very attractive.
Do you know how to classify garbage?
Scan the code at the environmental orientation project
Helping Dad pick up a cigarette head