Ma Xiaohui reprises "Crouching Tiger, Hidden Dragon"; "Erhu New Music Trend" World Tour (Charity Event) kicks off in Shanghai
On the evening of May 27, at the Jiukesu (Shanghai) Future Art Center Grand Theater, erhu musician Ma Xiaohui dazzled the audience with her refreshing energy, appearing on stage in a series of colorful hand-painted art costumes created by painter Chen Jialing, including a vibrant and colorful "Colorful Erhu" from her Xiaohui Erhu New Trend series.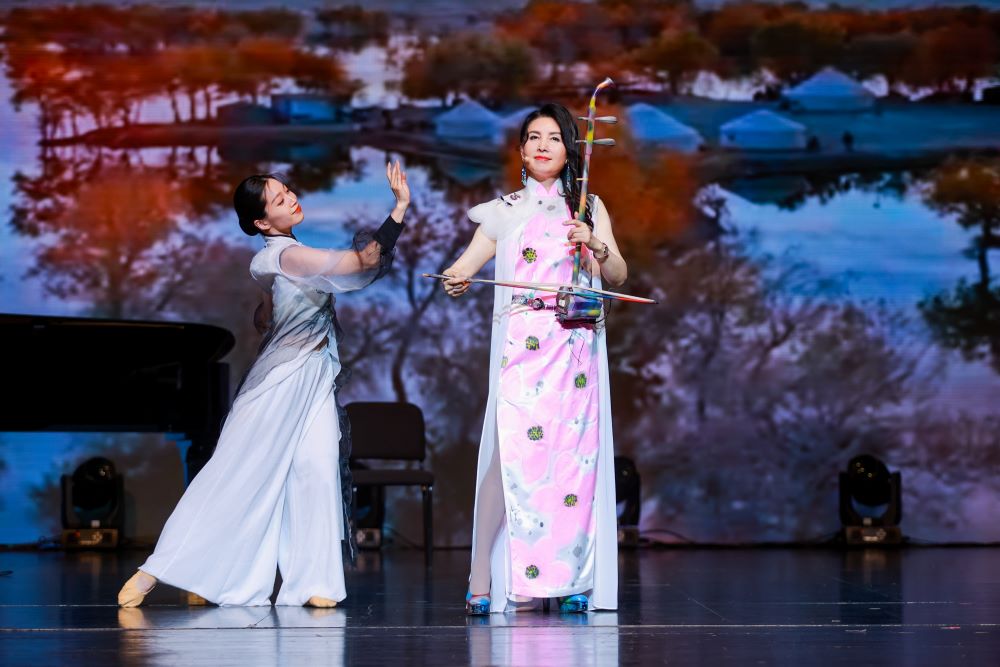 The event also featured multimedia presentations showcasing Chen's paintings, providing an immersive audiovisual experience for the audience.
This charity concert was personally created, planned, directed, produced, and starred by Ma Xiaohui. Combining Chinese and Western elements, music and art blend together, attracting more than a thousand audience members from Fengxian District and downtown Shanghai. This is the starting point of Ma Xiaohui's "Erhu New Music Trend – Legend of Music and Art" world tour concert, and it is also one of the projects in the "Erhu Traveling the World" series organized by the Shanghai Soong Chingling Foundation.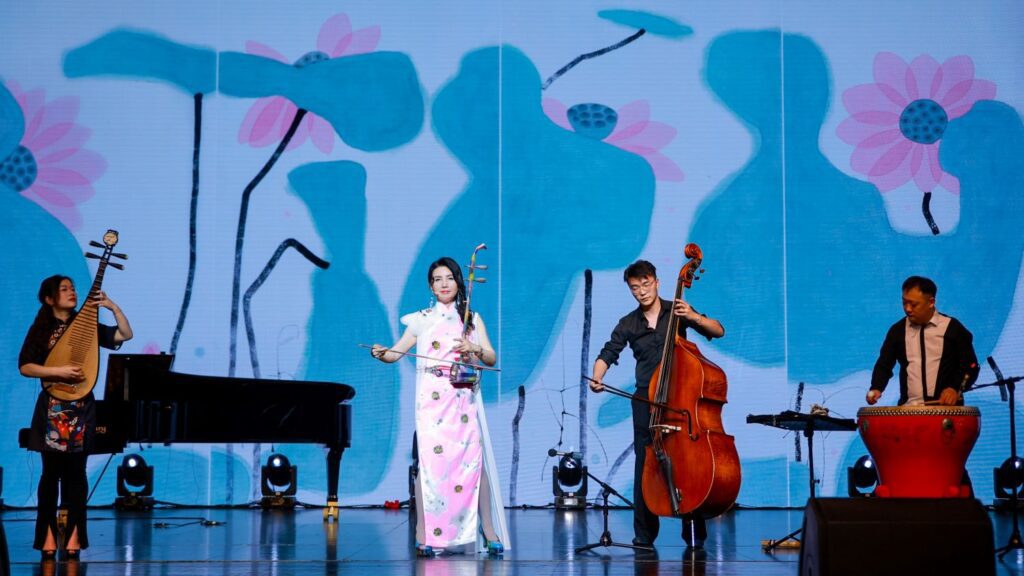 For over 20 years, "Erhu Fairy" Ma Xiaohui has traveled to nearly a hundred countries in Europe, America, Asia, and Africa, holding over a thousand solo concerts and lectures. She has collaborated with orchestras and musicians from around the world, engaging in dialogues between erhu and violin, piano, harp, and Spanish guitar. In order to bring audiences closer to the erhu, she boldly expanded the performance format, combining playing, storytelling, and performance, appealing to both refined and popular tastes. Now, she is embarking on a new journey.
Erhu can be classical and fashionable
The concert is divided into four sections: "Colorful Erhu – Splendor of the Silk Road," "Beautiful Classical and Western Fusion – Melting Hearts," "New Trend – Chinese Fashion Style," and "Dreams – Homeland of the Motherland," comprising a total of 20 works, each section independent yet interconnected. Ma performed traditional pieces such as "Jinse-Erquan Yingyue" ("The Golden Seashore – Reflection of the Moon on the Erquan Spring") and "Liangzhu" ("Butterfly Lovers"), as well as foreign classics like "Moon River," "Greensleeves," and "You Are My Sunshine." The old tunes are played in a new way, combining classic and fashionable elements.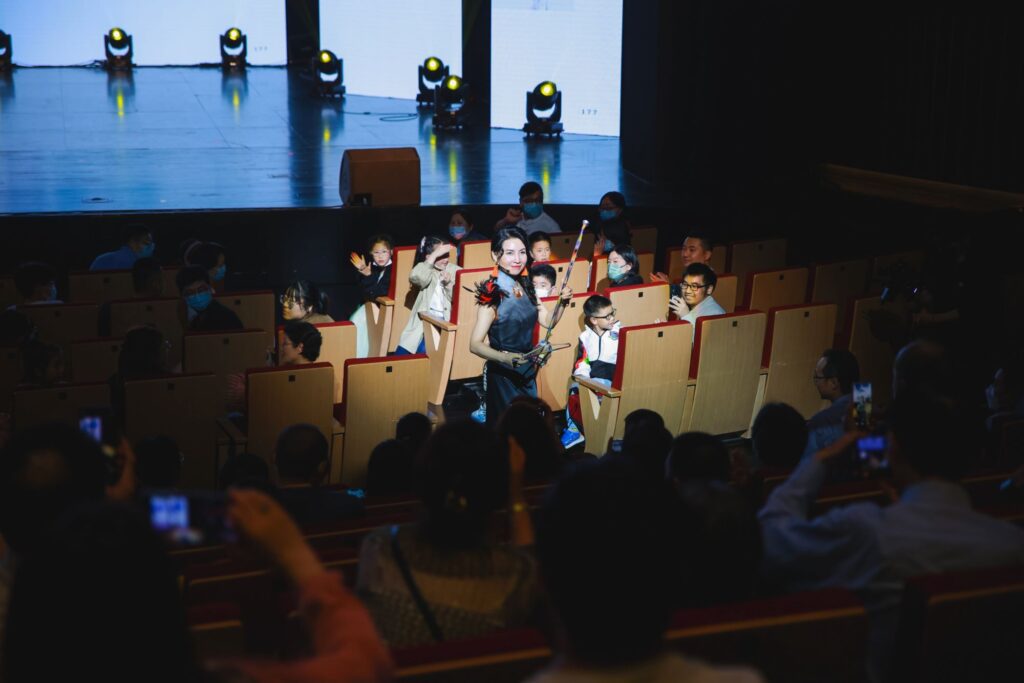 Many people associate "Erhu Fairy" Ma with the melody of the theme song from the movie "Crouching Tiger, Hidden Dragon." In 2000, Ma Xiaohui collaborated with cellist Yo-Yo Ma to record the film music for "Crouching Tiger, Hidden Dragon," composed by Tan Dun, winning the Academy Award for Best Original Music Score. In this concert, Ma once again played the theme song from "Crouching Tiger, Hidden Dragon," with the erhu's melodious and agile sound, and the cello's low and gentle voice, telling a touching story.
Through this concert, Ma presents the concept of the "New Music Trend." The concert incorporates various artistic elements such as opera singing, Peking Opera, Tai Chi, tango, chanting, recitation, poetry, and music, among others. On the Shanghai Liberation Day, May 27th, Ma Xiaohui also hopes to reflect the new era's style through the "New Music Trend," showcasing her patriotism and highlighting the spiritual temperament of Chinese culture.
"The path of innovation should never stop. I hope to pursue cross-cultural and cross-disciplinary dialogue between China and the West through the immersive form of the 'New Music Trend.' Embracing the future with an ancient erhu, walking together with beauty, and fragranting the soul," said Ma. "I want young audiences to feel that the erhu can be classical and fashionable at the same time. I hope to tell the story of China to Chinese and global audiences, based on Shanghai's local culture, the characteristics of the Yangtze River Delta, and the backing of Chinese culture."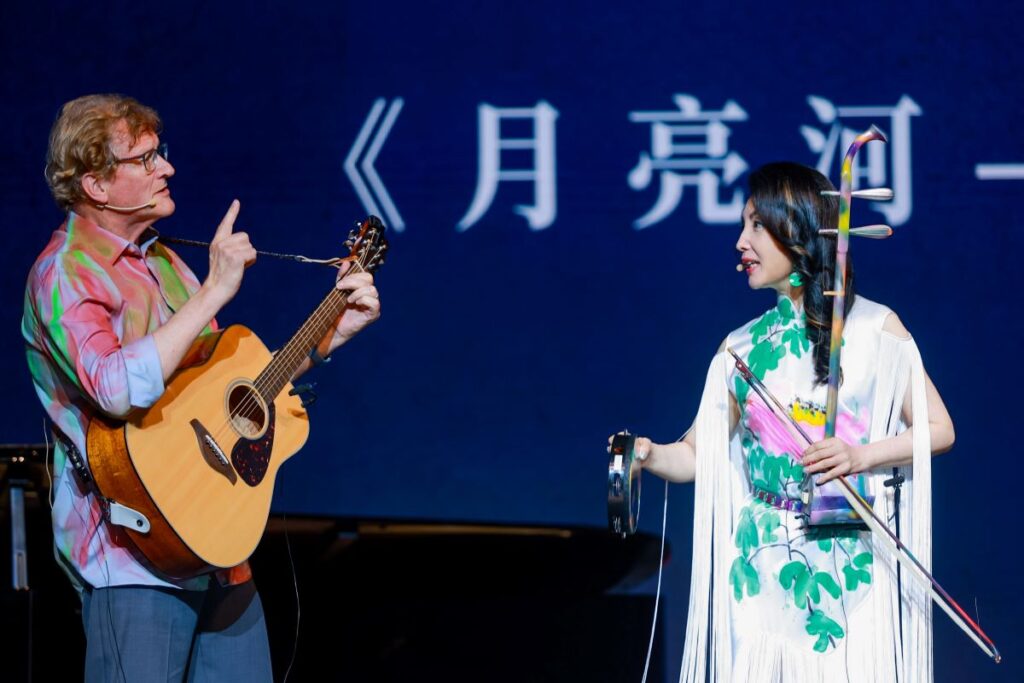 Each movement of the "Erhu New Music Trend" concert series can be performed independently as a dedicated concert. The performance time, venue, and number of performers can be flexibly adjusted. Ma said, "Whether it's a prestigious concert hall, a small salon space, or a campus community… we can bring a creative, universally appreciated musical and artistic experience, showcasing the beauty of erhu art and the depth of philosophical humanity anytime and anywhere."
Contributing to public welfare and conveying the power of music
Why hold the concert in Fengxian and at the Jiukesu (Shanghai) Future Art Center? Ma said, "Fengxian is the hometown of the erhu, and the legendary folk erhu musician Sun Wenming spent his life drifting and wandering. Fengxian was his final choice and destination. The Jiukesu (Shanghai) Future Art Center is a very modern theater that faces the future and embraces it." Ma Xiaohui's Master Art Studio has also settled in Fengxian.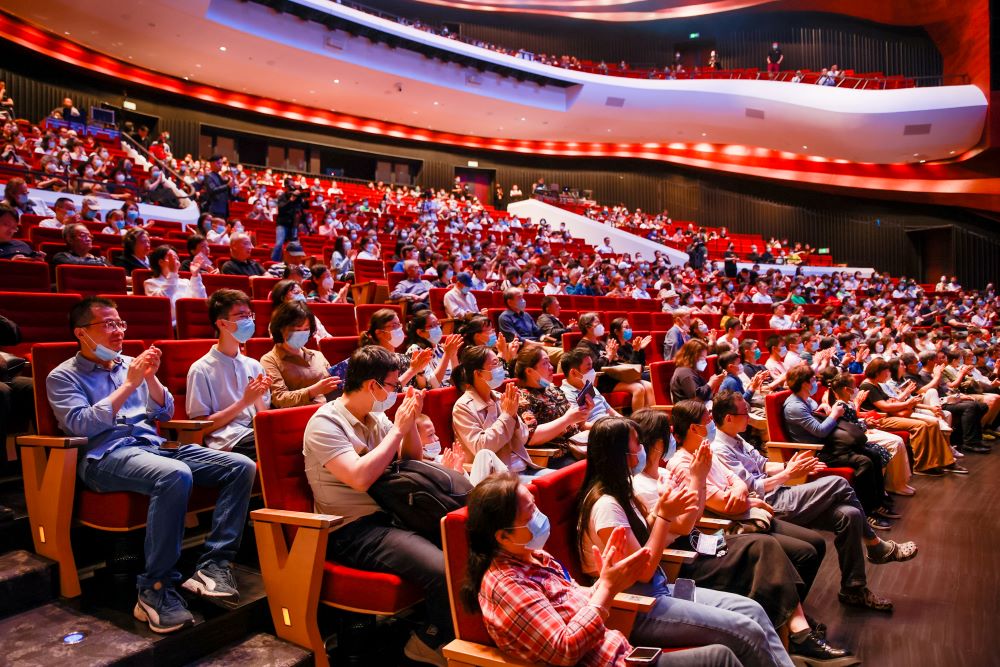 At this concert, Ma's "New Music Trend" ensemble performed her adaptation of Sun Wenming's work "Flowing Waves." The concert coincided with Children's Day on June 1, and to make more young people and children fall in love with the erhu and demonstrate the power of rural revitalization, the "New Music Trend" ensemble interacted with young erhu players from Fengxian, performing Ma's adapted version of the famous piece "Good Night – Galloping Horses." The performance received thunderous applause from the audience.
In recent years, Ma has increasingly dedicated herself to public welfare. In January of this year, the Shanghai Song Qingling Foundation established the Ma Xiaohui Cultural and Art Special Fund, aiming to promote and popularize Chinese traditional culture, enhance cultural self-confidence, and contribute to the overseas dissemination of Chinese culture through the power of public welfare. This year, the Shanghai Song Qingling Foundation's Ma Xiaohui Cultural and Art Special Fund will also organize special salon concerts to pay tribute to healthcare workers, as well as music therapy campus visits and other charity activities.
"Soong Chingling is a Chinese female role model whom I greatly admire. I hope to follow in her footsteps and contribute my modest efforts to public welfare. With an innovative perspective, a charitable model, and cross-disciplinary forms, I want to spread the beauty of erhu art and the beauty of the new national trend and Shanghai's new style to experience beauty, witness beauty, create beauty, and become beauty," said Ma.
A spectator in the audience said, "For each piece, we resonate and experience the blend of classical and contemporary, feeling a sense of transcending time and space. Behind the wonderful music we hear, there is also a longing for a better life. Appreciating this innovative 'New Music Trend' charity concert is not just about savoring beauty but also about learning and inheriting Chinese traditional culture."
In the future, Ma Xiaohui's "Erhu New Music Trend – Legend of Music and Art" world tour concert will embark on an international tour, upgrading to launch her original "Shaking Hands with the World – Erhu World Tour"… This year, she will collaborate with the Nashville Symphony Orchestra and the Tennessee State University Symphony Orchestra in the United States, and performances in Japan, Greece, and Italy are also in the planning stages. She will continue to use her erhu to engage in dialogue with the world.